The Farm
Olivette Farm is a project that affirms the Olivette community's commitment to re-localizing food production in Western North Carolina. We cultivate 4-acres, growing diversified vegetables for farmers markets, restaurants, and our CSA. We serve residents within the Olivette Community and the greater Asheville area.
To properly steward the land, Olivette Farm uses methods such as crop rotation, cover cropping and thoughtful tillage, as well as a wide variety of both traditional and modern growing practices. Everything grown on the farm is produced while preserving the integrity of the soil and respecting the natural balance of our environment.
We believe sustainable agriculture is not only a means of managing the land in a holistic manner but an opportunity to foster a quality of life that's just as ripe as the fruits of our labor.
We welcome visitors and volunteers at Olivette Farm, as the growth and education of our community is our top priority.
The Farmers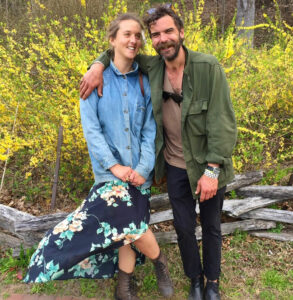 Farm Managers – Lauren & Daniel
Connecting people to organic food is their passion; making sure the food is nutrient rich and sustainably produced is their intention, along with helping people nourish the natural relationship we share with the land.
Lauren and Daniel have been farming in Western North Carolina for five years and have found a community they are proud to call home: Olivette.
Prior to farming in WNC, Lauren farmed on multiple operations while traveling to further her ecological education: these ventures found her up and down the coast of California and in Central America during a period of 6 seasons.
Before farming in WNC, Daniel farmed 2 years in Long Island, NY, 2 years in Northern California and 4 painstakingly humid high school summers in the tobacco fields of Eastern North Carolina.
Combining egalitarian mindsets with the passion to understand a way towards healthy living, Lauren and Daniel find joy in growing food for the local community.
They share in Olivette's core values of sustainability, community, family, education and happiness and are excited to be a contributing member of the Olivette family.
Philosophy
In our work, it is our intention to put once fallow land back into agricultural production. We aim to build soil while producing high-quality diversified vegetables for residents within the community, as well as the surrounding Asheville area. Our goal is not only to bring produce to the public but to bring the public onto the farm. For the farm to serve as a place of connection to the land as well as a source of sustenance. We hope that the quality of our produce speaks for itself while creating conversations around sustainable food production.